Volunteer Opportunity: Museum Attendant
The U.S. Naval Undersea Museum welcomes new volunteers to our team! Read on to learn whether our Museum Attendant volunteer opportunity in Keyport, Kitsap County, Washington, is a good fit for you. The museum is an official U.S. Navy museum.
Purpose of the Volunteer Position
Volunteer at a cool museum in Kitsap County, Washington, that draws visitors from all over the world! The U.S. Naval Undersea Museum offers visitors the opportunity to explore the history, operations, and technology of the U.S. Navy's undersea forces.
As a Museum Attendant, you are the welcoming and competent presence at the museum. Museum Attendants carry out museum policies and procedures to ensure visitor and artifact safety. Based on COVID-19 conditions, additional health and safety protocols will be practiced and enforced.

Goals
Serve as the welcoming and competent presence for U.S. and international visitors who come to the museum to learn about U.S. Navy undersea history and technology, and
Carry out museum policies and procedures to ensure effective human and artifact safety and management.
Skills Required
Our most successful Museum Attendant volunteers possess the following skills and characteristics:
outgoing and friendly nature
a helpful, courteous manner
good oral communication skills
motivation and drive
good problem-solving skills
ability to multi-task
interest in museums, history, or undersea technology
able to process large amounts of information
neat personal appearance (representing the U.S. Navy!)
able to handle groups of people with ease.
Scheduling
Museum Attendant volunteer shifts are as follows:
Sunday through Saturday, 9:45am-1:00pm (known as the "AM" shift)
Sunday through Saturday, 12:45pm-4:15pm (known as the "PM" shift)
The museum is closed on Tuesday, so there are no Museum Attendant shifts on those days.
Museum Attendants may select a "regular" schedule, if the calendar slot is available, such as "every Friday afternoon PM" or simply fill an empty calendar spot as they are available.
It is expected that each Museum Attendant will contribute at least TWO shifts per month (for a total of 6.5 hours) after the initial 4-hour orientation session and two 3.5-hour "on the job" training shifts.
Position Responsibilities
The Museum Attendant reports to the Volunteer and Events Coordinator and is able to:
Greet visitors and orient them to the museum mission, exhibitions, and safety protocols.
Manage and document visitation using a variety of manual and digital tools.
Encourage visitor to leave feedback, and sign up for the mailing list.
Conduct gallery walk-throughs, informing staff on duty if assistance is required, maintaining order and stocking supplies as needed.
Monitor and enforce visitor interactions and behavior in the exhibition galleries.
Ensure lobby and desks are neat, orderly, and stocked as needed.
Field museum visitor inquiries, providing an answer only if known.
Answer the phone and direct calls.
Stay familiar with emergency procedures and carry them out when needed.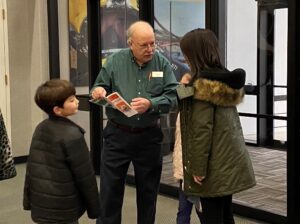 Training
Training for this position is provided in the form of an initial four-hour classroom session orientation, where we discuss museum history and operations and tour the museum building. Post-orientation, Museum Attendants observe current volunteers in action and learn about day-to-day operations and procedures over the course of two shifts (total of 6.5 hours). Training shifts should be completed within 30 days of orientation. After this training period, Museum Attendants are considered full-fledged volunteers and are able to sign up for future shifts.
Additional training is conducted during shift changes at the museum, via the monthly volunteer newsletter, Sonar Echo, and in the museum's volunteer system.
Supplies and Equipment
No special supplies and equipment are needed to perform this role. The U.S. Naval Undersea Museum provides all necessary supplies. Additionally, the lobby desk contains many resources to assist in the performance of the job duties, and additional guidance is always available from museum employees.
Contact
Contact Volunteer Coordinator Mary Rogers or call 360-396-5812 with questions about this volunteer opportunity.
The U.S. Naval Undersea Museum is located in Kitsap County, Washington, near Keyport, Poulsbo, Silverdale, Bremerton, Port Orchard, and Bainbridge Island.