The museum's long-term exhibits provide a comprehensive introduction to the Navy's undersea history and operations. Come discover the wide range of activities that happen undersea!
The Ocean Environment
Experience the remarkable and limitless diversity of the world that lies beneath the sea! This highly interactive exhibit explores key physical properties of the ocean such as buoyancy, pressure, density, heat transfer, light, sound, salinity, and oxygen. As you learn about these principles, consider how the Navy works successfully in this unusual and challenging environment!
Torpedo Technology
Torpedoes are the principal weapon of submarines for anti-submarine and anti-ship warfare. Navy aircraft and surface ships also rely on torpedoes to target enemy submarines. Learn more about the technological marvel that is the torpedo in our Torpedo Technology exhibit, which follows the history and development of U.S. torpedoes from early Howell and Whitehead torpedoes to modern torpedoes like the MK 48 ADCAP and MK 50. We hope you enjoy this look at the most comprehensive display of torpedoes in the United States!
Mine Warfare
Naval mines — prized for their efficacy, flexibility, and cost-effectiveness — have sunk more ships in the past 100 years than any other weapon. U.S. mine warfare involves both deploying mines and carrying out mine countermeasure operations. This exhibit traces the history of mine warfare from the Revolutionary War through modern operations and features examples of mines from these engagements as well as the Civil War, World War I, and World War II.
Preserving Peace: The Navy's Strategic Deterrence Program
Since 1960, ballistic missile submarines have patrolled the world's oceans with ballistic missiles, deterring nuclear war by their very presence. "Preserving Peace" delves into the storied history of the U.S. Navy's strategic deterrence program from its Cold War beginnings in the 1950s through today's modernization efforts. Highlights of the new exhibit include a Trident I (C4) missile payload section and video interviews with retired and active-duty submariners who have conducted deterrence patrols.
Saving Submariners: Submarine Rescue and Escape
Learn how the Navy saves the survivors of a submarine accident in this new exhibit, which looks at the history of submarine rescue and escape from 1900 through today. Explore the changes to submarine rescue and escape over time and discover why the U.S. Navy strongly prefers rescue over escape as the safest, most reliable method of saving submariners. Throughout, witness examples of historic and present-day equipment used to rescue the submariners that risk their lives to protect the nation.
Can't visit in person? View an online version of Saving Submariners here.
Greenling Control Room
The control room is one of a submarine's most important areas — it contains the equipment that steers the sub, fires its weapons, and plots its position and course. Step inside a real submarine control room in our submarine technology gallery! This recreated control room from Cold War submarine USS Greenling (SSN 614) features equipment from the sub, including periscopes, the ship control panel, fire control panel, and ballast control panel.
Search, Spy, Rescue, Recover: Navy Vehicles Under the Sea 
Once confined to science fiction, undersea vehicles now make thousands of dives for the Navy every year. Throughout the world, Navy vehicles recover lost objects, spy for information, disarm undersea mines, rescue accident survivors, investigate the ocean, and more. Missions like these were once impossible, difficult, inefficient, or dangerous to do. This exhibit explores the many ways that undersea vehicles expand Navy abilities and reduce risk to Sailors.
Family Learning Area
Whether artist or astrophysicist, everyone starts as a new learner. Inherent skills allow us to ask questions, explore, and make conclusions- providing a launch pad for growth and confidence in learning. This space provides a kid-friendly, hands-on area to use skills of observation, inquiry, exploration, reflection, and resilience to understand our environment.
Outdoor Exhibits
Connect with undersea history before you even step foot inside the museum by touring our outdoor exhibits. Enjoy the chance to see and learn about these oversize artifacts on display outside the museum: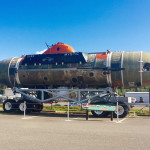 Mystic (DSRV 1)
DSRVs Mystic and Avalon provided rapid-response submarine rescue capability to the U.S. Navy from 1970 to 2008. In the event of a submarine accident, one of the Navy's two deep submergence rescue vehicles (DSRVs) could be deployed to rescue survivors anywhere in the world. Although now retired, they remain two of the most technologically advanced submersibles in the world.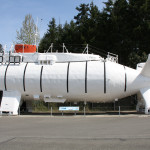 Trieste II (DSV 1)
Trieste II (DSV 1) was the first deep submergence vehicle built by the U.S. Navy, following its acquisition of the original Trieste bathyscaphe. With an operating depth of 20,000 feet, Trieste II performed undersea research and tasks, including examining the remains of USS Scorpion in 1969. Most recently, Trieste II made national news in late 2012 after the Central Intelligence Agency released information about a secret mission it conducted in 1972 to retrieve a lost spy satellite film capsule from 16,400 feet.
Sail of USS Sturgeon (SSN 637)
USS Sturgeon was the lead ship in her class of 37 fast attack submarines. Sturgeon-class submarines were the workhorses of the Submarine Force during the Cold War, conducting surveillance and reconnaissance missions, taking part in battle and strike group operations, and providing precision strike capability and ground warfare support. After Sturgeon was decommissioned in 1994, her sail was brought to the museum for permanent installation.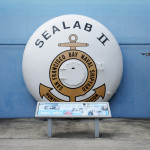 Sealab End Bell
The Navy's Sealab projects of the 1960s tested and demonstrated the viability of saturation diving, which allows divers to live and work at great depths for days, weeks, or even months. This end bell is one of two dome-shaped end caps created for the Sealab II habitat the divers worked from. To form the end bells, Hunter's Point Naval Shipyard personnel exploded C-4 plastic explosive underwater using steel and a concave die, a process called explosive metal shaping.