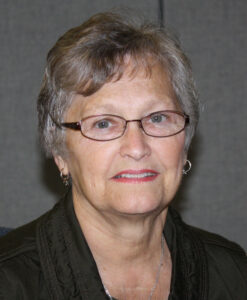 Bonnie Thomas is originally from Alaska. Her family moved to Poulsbo in 1954 when she was in 7th grade, when her father took a job building roads at the Navy installation at Bangor. She left for a short time to go to college at Washington State University but stayed only a year due to lack of funds. Always looking ahead, knowing she couldn't stay longer than a year, she took clerical classes to have office skills to fall back on for future job opportunities.
She met and married her husband Joel, a state trooper, in 1962. They moved around a bit (Oregon, Aberdeen) for about five years before settling back in Kitsap County. She found a job in Personnel Benefits (now Human Resources) at the base at Keyport and worked there for 25 years before retiring in 1995.
After retirement, Bonnie missed the camaraderie of her work mates and decided to volunteer. She chose the Naval Undersea Museum because she knew the area and felt it was a good fit. She worked as a greeter a few hours a month, then her husband died in 2009. Then, the volunteer work became more important as a social outlet and something to do. She enjoys the people that come into the museum, the other volunteers, and thinks the staff is fantastic.
Bonnie also volunteers at St. Michael's Hospital in Silverdale in the labor and delivery area. Her job is to keep track of the visitors for the new mothers. Covid protocols mandate a limit of two visitors at a time, masks, and hand sanitation. She also helps with new patient check in and orientation to the delivery area.
Bonnie has four children, six grandchildren and three great grandchildren. All but two live in the area.  She enjoys her monthly potluck dinners with her female grandkids, which is going on three years and counting.
Are you interested in joining our amazing team as a volunteer? Learn more about our volunteer opportunities!
---
ABOUT THE AUTHOR
Darlene Iskra has been a volunteer at the U.S. Naval Undersea Museum for 11 years. She started at the front desk as a greeter, and about two years ago she began working in the collections management department, cataloguing collections. She was a naval Surface Warfare Officer and Diving Officer for 21 years, retiring in 2000 as a Commander. She received her PhD at the University of Maryland in 2007, studying the military and society, as well as gender work and family. She started volunteering at the museum to meet new people and give back to the community. She volunteered to talk to museum volunteers in order to learn more about her colleagues and ease some of the loneliness of self-isolation during the COVID-19 pandemic. These "Volunteer Spotlights" are the results of her continuing conversations.