Volunteer Spotlight: Meet Dawn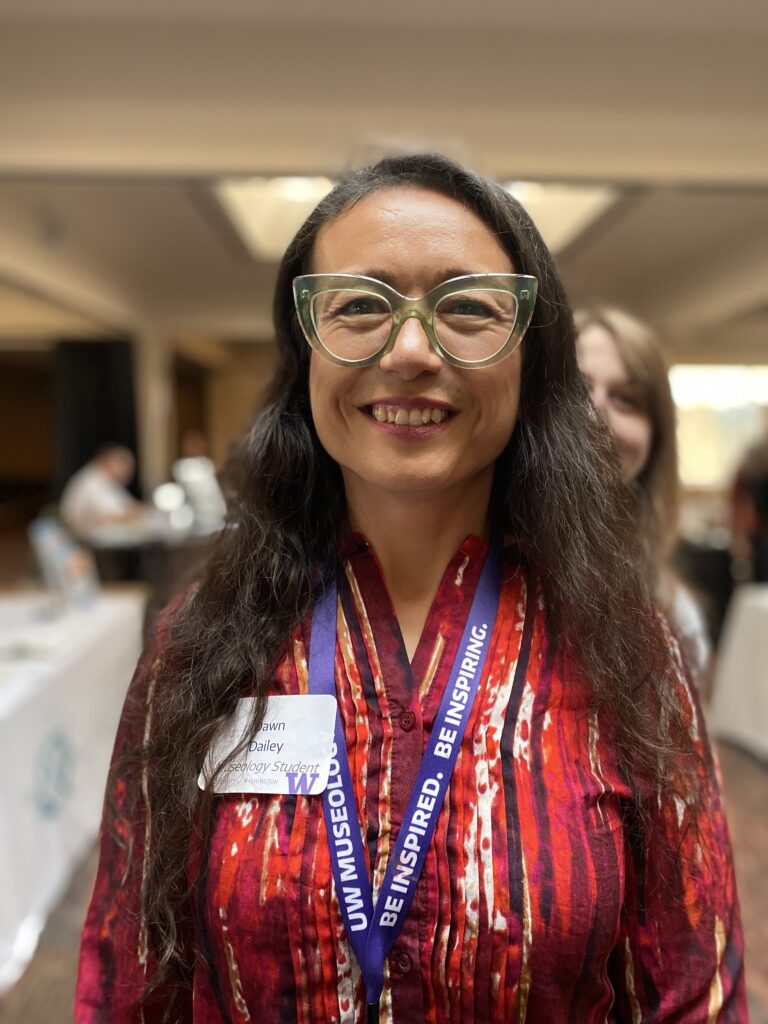 Dawn Daily began her work at the U.S. Naval Undersea Museum (USNUM) as a contract Museum Education Specialist. From June to September 2019, she worked with Valerie at USNUM and Carolyn of the Puget Sound Navy Museum to develop and implement the education programs and curriculum related to STEAM programs.
She enjoyed the work so much, she decided to continue volunteering, working with Valerie on outreach programs such as Discover E Day, Science Saturdays, and the museum's birthday celebration, before the lock-down, and she continues to work with Valerie remotely on similar projects.
Dawn is a self-proclaimed Korean American-Army-brat. She was born in Ft. Riley, Kansas, to father, Staff Sergeant (E-7) William Earl Stone, Jr., and mother Yu Chong Suk. Her father was a medic and a medical administrator while in the Army. During her formative years, they lived in other areas such as Ft. Monmouth, New Jersey; Badhersfeld, Germany; and Orlando, Florida, where her parents retired.
Dawn started her college career at Lake Sumter State College in Florida where she met and married her husband. While in college, he joined the Army, and during the initial years of their marriage they took turns working and finishing their college degrees through the military's college education program at the various bases where they were stationed. She graduated from Troy University with a BA in History and Anthropology. During their marriage she worked as an Educator and Social Worker within the Army-Air Force education system. While an Army wife she also lived throughout the United States and Hawaii, ending up at Joint Base Lewis-McCord.
Dawn has three children. Elizabeth, Kiera, and Willow. Divorcing after 26 years, Dawn lives in Seattle while her ex-husband lives near JB Lewis McCord. She co-parents Kiera and Willow who attend Aspire Middle School for the Performing Arts in Seattle. She has two grandkids, Cassie Marie and Everett, who live in Lacey with mom Elizabeth.
Dawn has been pursuing her Master of Arts in Museology from the University of Washington. Her thesis project was to curate an exhibit at the Bellevue Art Museum called "Injustice Murals." She also works as the Public and Youth Program Assistant at the Henry Art Gallery at the University of Washington. In that position, she facilitates education curriculum and communications between the artists and the museum to develop educational programs based on the art exhibits.
Dawn came to the Naval Undersea Museum via the Ft. Lewis Army Museum, where she was the Volunteer Coordinator. The museum publicized job opportunities and other positions at museums in Tacoma and the Kitsap Peninsula which is how she learned about and was hired as the contract education specialist at USNUM.
Dawn is expecting to continue her career in museology once she finishes her degree later this year. She is hoping that the University's job board with job openings, volunteer opportunities, and internships in Pierce, King, Thurston, and Kitsap counties will provide options for her to stay in the area. Dawn thinks the USNUM is a wonderful institution. She enjoys the work here because the museum staff foster a welcoming environment, and the education resources and community outreach are outstanding. She plans to continue to serve our community and is proud to be a volunteer.
Are you interested in joining our amazing team as a volunteer? Learn more about our volunteer opportunities!
---