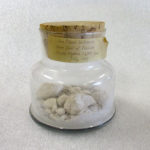 This ocean floor sediment in the U.S. Naval Undersea Museum's collection (left) comes from the final resting place of the fast attack submarine USS Scorpion (SSN 589). Scorpion is one of only two nuclear-powered submarines the U.S. Navy has lost. The cause of her sinking remains unknown and contested by some to this day.
Scorpion was a Skipjack-class submarine commissioned amid escalating Cold War tensions in July 1960. In February 1968, Scorpion left Norfolk for a Mediterranean deployment. She conducted operations with the Sixth Fleet and NATO for three months, then began the trip home in May. On her expected arrival date of May 27, as the families of her crew members waited pierside in Norfolk, Scorpion failed to appear and was reported overdue. Chief of Naval Operations Thomas H. Moorer declared her presumed lost on June 5. The Navy later determined the submarine had sunk on May 22, four days before her due date.
In October, after a challenging search effort, the Navy located Scorpion's remains in the Atlantic Ocean 400 miles off the Azores islands. The lost submarine had come to rest more than 10,000 feet underwater on the ocean seafloor. Photographs taken by oceanographic ship USNS Mizar (AGOR 11) confirmed Scorpion's loss and pinpointed the site of her wreckage. A Navy Court of Inquiry examined thousands of photographs and interviewed more than 70 experts but was unable to determine a cause for the accident.
Scorpion's loss, just five years after the sinking of USS Thresher (SSN 593) in April 1963, gravely concerned the Navy. In the spring of 1969, it dispatched its new deep submergence vehicle Trieste II (DSV-1) to survey Scorpion's remains in an effort to learn more about the cause. Trieste II made nine dives in June and July 1969 to study Scorpion's wreckage.
Trieste II could hold three individuals per dive: one pilot and two observers (one or both which could be co-pilots). Across the nine dives, eight men descended down 11,000 feet in Trieste II to view and photograph Scorpion's final resting site. The significance of the operation was not lost on these eight individuals: seven were qualified submariners turned submersible pilots, and the eighth, engineer Capt. Harry Jackson, helped design several classes of nuclear submarines and narrowly missed perishing aboard USS Thresher in 1963.
After the investigation concluded, Trieste II (DSV-1) returned to San Diego and was offloaded from its support ship USS White Sands (ARD 20). One of the seven Trieste II pilots to take part in the Scorpion search, Lt. Cmdr. Anthony Dunn, noticed that ocean floor sediment from Scorpion's resting site had collection inside the submersible's dish-like feet. He collected some of the sediment in a glass jar and kept it until his death 45 years later.