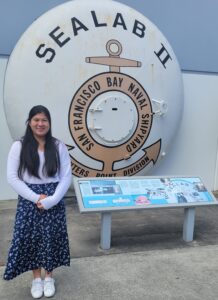 Regina Obnial is a volunteer for the Naval Undersea Museum Foundation and will be writing articles about the museum to increase community awareness.
Regina will be a senior at South Kitsap High School in the fall. Her high school career has been very busy with extra-curricular activities. Since freshman year, she has been a member of Concert and Marching Band, Swim and Water Polo, as well as Navy Junior Reserve Officer Training Corps (NJROTC).
In band she plays clarinet for the school's highest concert level, and since her sophomore year she has been a Clarinet Section Leader of the marching band. For sports, she has been Varsity since her freshman year, and currently is the Girls' Swim and Water Polo Captain. In NJROTC she has held several leadership positions: as a freshman she was a squad leader, her sophomore year she commanded the Unarmed Drill Team, and as a Junior she was a Platoon Commander and the Color Guard Team Commander. For her upcoming senior year, she will be the Battalion Commanding Officer and the Color Guard Team Commander. Through NJROTC she has received the Daughters of the American Revolution Award, and the Bronze and Silver awards for the Sons of the American Revolution 2021 essay competition.
Beyond the bigger school organizations, she participates in several clubs and community service activities. Since her sophomore year she has been an inducted member of the National Honor Society, and her senior year she will assume President of the club. This year she became the Speech and Debate Captain and participated in National Qualifiers and State for Oratory Speech. She is also a member of Model United Nations and the school's Japanese Club. Additionally, she recently earned the position of Senior Class Senator for the Associated Student Body. Outside of school, she is an active member of her church and has accumulated over 100 hours of community service through the Youth Migrant Program, Religious Education, and other various events. After high school, she plans to further her education and leadership potential by attending a service academy or a university in an effort to create a career in law or medicine.
Watch for her around the museum. She will be visiting and talking to various volunteers and staff as she investigates the exhibits and the people who work around them!
---
ABOUT THE AUTHOR
Darlene Iskra has been a volunteer at the U.S. Naval Undersea Museum for 11 years. She started at the front desk as a greeter, and about two years ago she began working in the collections management department, cataloguing collections. She was a naval Surface Warfare Officer and Diving Officer for 21 years, retiring in 2000 as a Commander. She received her PhD at the University of Maryland in 2007, studying the military and society, as well as gender work and family. She started volunteering at the museum to meet new people and give back to the community.