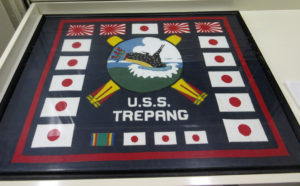 American submarines played a crucial role in the Pacific theatre during World War II. Most U.S. submarines served in the Pacific, patrolling and hunting enemy ships. Between December 1941, when the United States entered World War II, and September 1945, when Japan surrendered, 187 American submarines made an astounding 1,474 patrols in the Pacific.
U.S. submarines attacked both merchant and military ships. Although the U.S. Submarine Force made up less than two percent of the U.S. Navy, it sank 60 percent of Japan's merchant ships and 30 percent of Japan's warships during the war. While both efforts helped the Allied cause, sinking merchant ships afforded greater impact. The island of Japan depended heavily on sea-based shipping for its economy. The 1,178 merchant ships that American submarines sank during the war deprived Japan of five million tons of shipping.
This battle flag, in the collection of the U.S. Naval Undersea Museum, commemorates the World War II service of the submarine USS Trepang (SS 412). Trepang was a Balao-class submarine built mid-war at Mare Island Naval Shipyard. Commissioned in May 1944, Trepang completed sea trials and began her first war patrol in September. She would make five war patrols during the year before the war ended, earning five battle stars for her service.
Submarine crews began sewing battle flags in 1942 as unofficial records of the ships they sank. Flags were designed and stitched by individual crews at sea so their contents and symbolism varied from submarine to submarine. Most battle flags included the submarine's name and insignia (logo), which was usually a depiction of the submarine's namesake (a fish or other sea-dwelling animal, as that was how U.S. submarines were named at the time). As importantly, the battle flag featured a Japanese flag for each enemy ship the submarine had sunk. A Japanese "rising sun" flag symbolized a sunken warship, while a white flag with a red circle represented a sunken merchant ship.
Battle flags could document a single patrol or multiple patrols. Trepang's flag reflects her full wartime service of five patrols. Across the five patrols, her crew documented a cumulative record of 18 Japanese ships sunk: four warships and 14 merchant ships. One of Trepang's crews illustrated the ships the submarine sank during the war by sewing 14 red circle flags (indicating 14 merchant ships sunk) and four rising sun flags (four warships sunk).
Crews made their best determinations during engagements but could not always verify their sinkings with certainty. After the war, the Joint Army-Navy Assessment Committee reviewed available information and changed the official records of some submarines: sometimes crediting a submarine with previously unacknowledged sinkings; sometimes discovering sinkings were claimed in error. The committee could not verify all the merchant sinkings Trepang's crews believed they had achieved. As a result, her official record was changed from 14 merchant ships sunk to seven after the war.
Many battle flags also recorded other significant events or actions like enemy ships damaged, rescue missions performed, and commendations received. During her first war patrol, Trepang earned a Navy Unit Commendation for sinking a large Japanese landing craft and damaging a battleship and destroyer under heavy depth-charge and air-based attacks. Her crew marked the honor by sewing the green, red, yellow, and blue ribbon that represented the commendation on her battle flag's lower left corner.
Trepang completed her fifth and final war patrol on July 31, 1945, and returned to Pearl Harbor for a refit. During her four weeks in the shipyard, Japan surrendered following the dropping of atomic bombs on Hiroshima and Nagasaki, which ended the war. Trepang was decommissioned the next year, in June 1946, before beginning a second service life in June 1962 as an auxiliary submarine. Decommissioned a second time in June 1967, Trepang was sunk as a target in September 1969 by destroyers USS Henderson (DD 785) and USS Fechteler (DD 870).